We can supply any parts and spares you need for your HRD/Vincent. Below are just some of the specialist parts we can supply. Give us a call and let us help keep you on the road.
We can also ship worldwide Email: steve@conway-motors.co.uk
ET33 and ET34 Valves
We have in stock ET33 and ET34 ready to ship
£30 plus VAT and Postage (worldwide)
Rear Frame Member Series B/C
Vincent Rear Frame Member.
Fully machined and brazed in house by Conway Motors
£1800 plus vat
Series B/C Oil Tank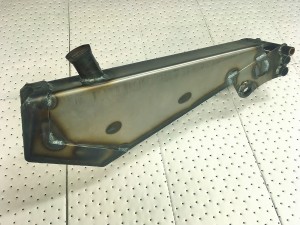 Vincent Oil Tank, fully made in house by Conway Motors
£850 plus vat
Twin Kick Start Crank G76
Vincent twin kick starts arm
£350 plus vat and postage
One Piece Billet Aluminium Barrels
Our new billet aluminium barrels are 90mm bore and come ready Nikasil coated.
Please call or email for prices
Grosset Electric Starter
The Grosset electric starter can be supplied as a kit or fitted by us here at Conways.
A fantastic addition to your bike, will give you that little bit of help when you need it.
Hidden under the bike, this starter does not affect the look of your Vincent! Powered with a Lithium-ion battery, your bike will fire into life at the touch of a button.
Give us a call or email to find out latest prices and availability.
Twin Steady Plate ET161
Made from good quality Aluminium
£48 inc VAT Plus postage (worldwide)
(we have these in stock ready to post)
Anti-Sumping Valve A65V
Our in -house made Anti-Sumping valve will stop your Vincent wet sumping. Supplied with ferrules and full instructions making it easy to fit. For use on Pre and Post war bikes.
£57 inc VAT plus post worldwide
Forged Omega Pistons 7.3:1 and 8.0:1 STD
We have Omega forged piston in stock and ready for immediate delivery.
£125 inc VAT plus post worldwide
HRD/Vincent Pre War Series A Heads 
Series A Heads available in Cast Iron and Aluminium. Each head comes fitted with valve seats.
£1000 plus VAT and Post Worldwide
Vincent Post war Heads Front and Rear
Cylinder heads to fit post war Vincents. Complete with valve seats fitted and single spark plug hole.
**Please note that all cylinder heads can be supplied with sealed guides, double spark plug hole or as a complete assembly to your requirements (please call for prices)
£850 plus VAT  and post worldwide
Vincent Comet Flywheels
Vincent Comet Flywheels (instock)
**Can be supplied with mainshafts or as a full assembly (please call for prices)
£600 plus VAT per pair plus postage
Oil Tank 'Manhole' Inspection Cap
This permanent oil tank Inspection Manhole is great for helping to clean out old oil. This can be fitted using a hole saw and a welder. We can supply as a kit or alternatively we can fit it for you!
£75 plus VAT & Post (KIT)
£175 plus VAT (Supplied, Fitted and fully cleaned)
Exhaust Thread Repair
We can repair any old worn out or cross threaded exhaust threads by replacing them with this insert machined and fitted in our workshop.
£80 plus VAT and return post.